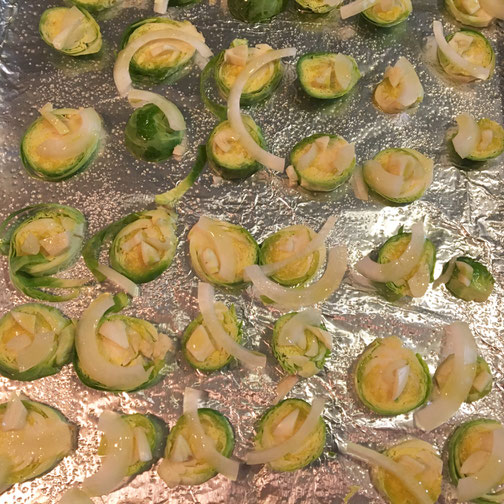 ---
In this first installment of "Instarecipes" (recipes to accompany the food photos I post to Instagram), a way to make Brussels Sprouts delicious.
I know what you're thinking. Brussels Sprouts are just tiny little cabbages that taste like feet. I hear ya. But like most things, Brussels Sprouts can be made delicious by roasting.
The recipe requires the patience to slice up a bunch of Brussels Sprouts, but other than that, it's super simple, very healthy, and delicious.
If you have no patience for slicing up Brussels Sprouts, I have noticed that Wegman's sells "shaved" Brussels Sprouts. Upside, no slicing. Downsides, they are sold in big quantities so you can't fit them all on one tray, and they are more expensive than whole Brussels Sprouts. Still, sometimes we all need a labor-saver.
The Recipe
Ingredients:
Brussels Sprouts, as many you like or as few as a handful.
Sweet onion, sliced thin
Garlic, minced
Olive Oil
Salt
Instructions:
Preheat the oven to 450. Line a rimmed cookie sheet with foil and coat lightly with olive oil.
Slice Brussels Sprouts into thin pieces. Cut them vertically (through the stem end). Each one should make at least four slices. You can cut them even thinner.
Place Brussels Sprouts on prepared cookie sheet in a single layer. Sprinkle onions and garlic on top. Drizzle with more olive oil and season lightly with salt.
Roast for 12-15 minutes, turning the pan at least once while cooking. Shake the pan when you turn it to keep the bottoms from sticking or burning.
Serve warm!
Do you have a favorite Brussels Sprouts recipe? Please share! I'm always looking for ways to trick myself into eating more veg ;)
---