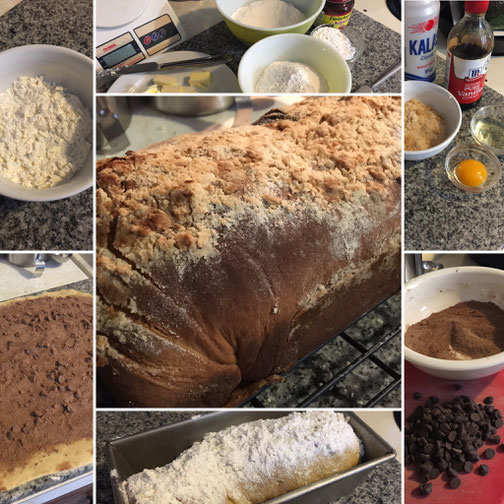 ---
If you know me at all, you know I love baking bread, and I love chocolate! What could be better on a snowy winter day than bread with chocolate filling? Enter Chocolate Babka.
The Recipe
This recipe comes from Cooking Light, although I found their directions challenging to follow, so after having made this one several times, I've written them out myself with added notes, which I shall share with you here!
Because there are A LOT of ingredients several of which get divided from their initial measurements, I have written it out with ingredients noted when they are added.
Remember: Always read the whole recipe before you start. All ingredients are noted in bullet lists.
Also, I make bread a lot, and I make pretty complicated bread recipes, so fair warning: This is not a beginner recipe.
Tools:
Kitchen Scale
Standing Mixer with a Dough Hook
Instant read thermometer
Rolling Pin
9x5 Loaf Pan
Parchment Paper
Cooking Spray
Wire cooling rack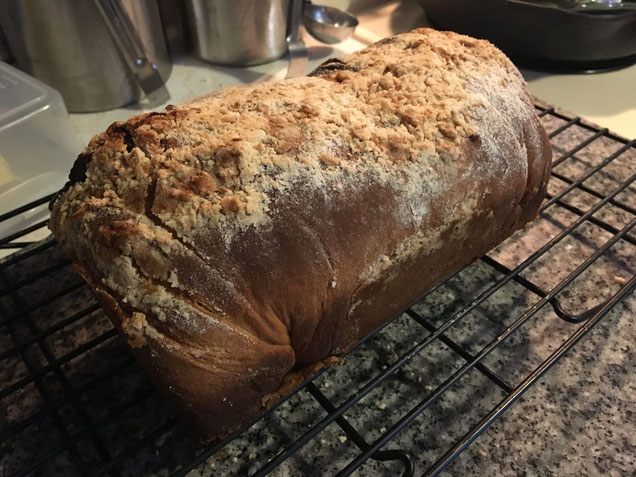 step-by-step
For the Dough
1. Proof the yeast:
3/4 cup low-fat or whole milk, warmed to about 105 degrees
1 tsp granulated sugar
2 1/4 tsp dry yeast (1 package)
Dissolve sugar in milk, sprinkle yeast over the milk in the bowl of a stand mixer. Let sit 5 minutes.
2. Stir in
6 T. granulated sugar
1/2 tsp vanilla extract
1/4 tsp salt
1 egg yolk (tip: separate egg while the egg is cold)
3. Using dough hook of standing mixer, add
5.85 ounces bread flour (about 1 1/4 c)
6 ounces all purpose flour (about 1 1/3 c)
Mix for about two minutes until fully combined.
4. Mix in
5 T. unsalted butter, softened and cut into small pieces
Scrape down often until the butter is fully incorporated.
5. Continue to knead in the stand mixer with dough hook for about 5 minutes, adding another 1/3 c. all purpose flour 1 tablespoon at a time to prevent dough from sticking. Dough will be very soft.
6. Place dough in a large greased bowl, cover with plastic wrap, let rise in a draft-free place for 1 1/2 hours. The dough will rise, although it will not double the way other bread doughs typically do.
Prepare the Filling and Topping
While the dough rises, prepare the loaf pan. Cut a piece of parchment to fit the bottom of your pan. Spray the pan with cooking spray, place parchment in the bottom, top parchment with more cooking spray.
For the filling, combine:
1/2 c. granulated sugar
3 T. unsweetened cocoa powder
1/2 tsp. cinnamon
1/4 tsp. salt
4 ounces semi-sweet chocolate, chopped
Set aside.
For the streusel topping, use a fork to mix the following in a crumbly mixture:
2 T. powdered sugar
1 T. all purpose flour
1 T. salted butter, softened
Shaping and filling the dough
After 1 1/2 hours of rising time, on a generously floured surface, roll the dough into a large, thin rectangle (see picture above).
Sprinkle the chocolate filling over the dough, leaving a 1/4 inch edge of all sides.
Carefully roll the dough up jelly-roll style. Pinch the seams together to keep the filling in. Gently twist the rolled up dough, like very gently wringing out a towel. Place into the prepared loaf pan. You will have to sort of smoosh the dough-roll to fit into the pan, as it will be longer than 9 inches.
Cover with plastic wrap and let rise again, 45 minutes.
Baking
Preheat the oven to 350.
Sprinkle streusel topping over dough.
Bake for 50-60 minutes*. Cover with foil after first 40 minutes to prevent loaf from getting too dark. The inside of the loaf should register 200 degrees on an instant read thermometer and sounds hollow when tapped on the bottom.
Cool in the pan on a wire rack for ten minutes. Remove from pan. Cool completely before serving.
Enjoy!
*The original recipe says 40 minutes. I have found that if I cook it for 40 minutes, the internal temperature is barely 150 degrees and the dough in the middle is raw, so I cook it longer.
---