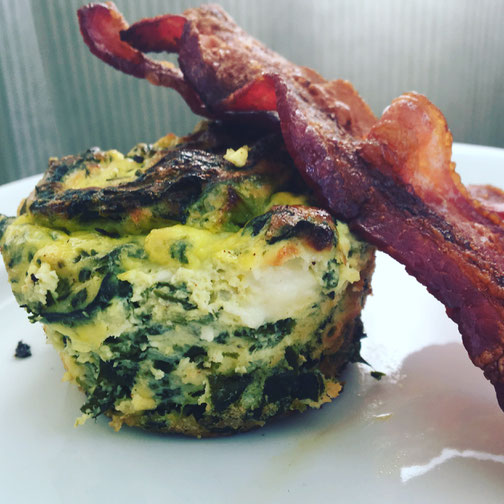 ---
I developed this recipe to solve a breakfast problem. I wanted a grab-and-go weekday option that didn't rely on sugar or carbohydrates. Mini quiche--crust omitted--seemed like a great make-ahead option.
Why, you are wondering, am I avoiding sugar and carbs in the morning? Have I lost my mind? Well, not exactly.
I'm not a fan of dieting, elimination diets, or the concept of "going on a diet." I spent my teens and twenties tormenting myself with diets not because I was overweight but because I was utterly and completely terrified of gaining weight. The only result of my efforts "to diet": Years of stomach aches. Literally. Dieting made my physically ill. Now, thanks to the wisdom of my age, I have a simple philosophy in life: Not self-sacrifice, but self-cherishing.* 
I've long-since reformed my dieting ways. I understand now that
1. There are a lot more interesting things about me than my dress size.
2. Food is one of life's greatest pleasures and should be treated as such.
3. The diet industrial complex thrives precisely because diets don't actually work for most people in the long run.
4.  I am much more likely to gain weight when I'm obsessed with my weight than when I'm happily engaged in living my life.
That said, I am concerned, as most people are, with my health. I'm not getting any younger, and I want to do what I can to stay fit and active, and--most importantly--to feel energized and happy.
To that end, I was recently listening to an episode of Gretchen Rubin's Happier Podcast in which she talked about Gary Taubes's new book THE CASE AGAINST SUGAR. I was intrigued enough to read the book, and then to read Taubes's previous work, WHY WE GET FAT.
I'm not a scientist, so maybe I'm easily fooled, but Taubes's presentation of the science of what happens when we eat sugar and his analysis of how the sugar lobby countered good science with bad science and masterful marketing to ensure the steady growth of the sugar industry are utterly compelling and have gotten me thinking about what I eat and how I feel when I eat certain things, all in the name of self-cherishing, not self-sacrifice.
For me, the takeaway is that the healthiest food is homemade with simple ingredients. Really, it's the same takeaway I have from reading Michael Pollen's work: Eat food, not too much. Avoid unpronounceable ingredients and anything previous generations wouldn't recognize as food. 
As such, I've been eating a lot less sugar and far fewer carbs, and I feel great! I have tons of energy and my usual old tummy aches, a near daily nuisance since college, have been fewer and farther in between.
I have found it quite easy to reduce the amount of sugar in all parts of my day but breakfast. Yes, eggs are a good breakfast, but I don't always have time to make a hot breakfast on weekdays If I'm having eggs, I want side dishes like bacon or sausage and toast, and now it's a little more involved than I'm willing to get on your average Tuesday.
Enter mini crustless spinach quiche. I can make a big batch on the weekend and have breakfast ready for the week. I get a nice dose of protein and veg and start the day right. Not self-sacrifice, but self-cherishing!
*I borrow this phrase from "My Garden," an essay published under the name Gail Hamilton (which is the pen name of Mary Abigail Dodge) that appeared in the Atlantic in May, 1862.
The Recipe
16 oz frozen chopped spinach, thawed, squeezed out as dry as possible
6 scallions, chopped
6 garlic cloves, minced
2 T. lemon juice
2 T. oregano leaves, minced
6 extra large or 8 large eggs, beaten
15 oz whole milk ricotta
1 c. crumbled feta
3/4 c. milk
salt and pepper to taste
Arrange oven racks on upper and lower middle positions. Preheat the oven to 425.
Whisk together eggs, ricotta, feta, and milk. Season with salt and pepper.
Stir in spinach, scallions, garlic, oregano, and lemon juice.
Prepare two muffin trays: Spray 8 cups in each tray with nonstick spray (I first tried to squeeze this recipe into one 12-cup muffin tray, but the mixture bubbled over and made a mess). 
Spoon mixture into prepared cups.
Place trays in oven. Bake for 30 minutes. Halfway through baking, rotate trays top to bottom and front to back.
Remove trays from oven and place on wire racks. Cool for five minutes and then run a sharp knife around each mini quiche. Continue to cool in tray about 10 minutes. 
To unmold, place a cookie sheet upside-down on top of the muffin tray and flip to invert quiche out of the muffin cups. Turn quiche right-side-up and serve.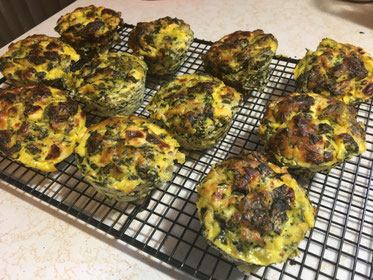 Quiche can be stored in the fridge for 5 days or so, and can be individually wrapped and frozen for a couple of months.
---